---
Servo Edge Position Control System
Name:
Servo Edge Position Control System
控制方式Control Method DC Servo Motor Driver:
控制方式Control Method DC Servo Motor Driver
电源Power DC 24V /5A:
电源Power DC 24V /5A
响应速度Response speed 0.5 ms:
响应速度Response speed 0.5 ms
---
---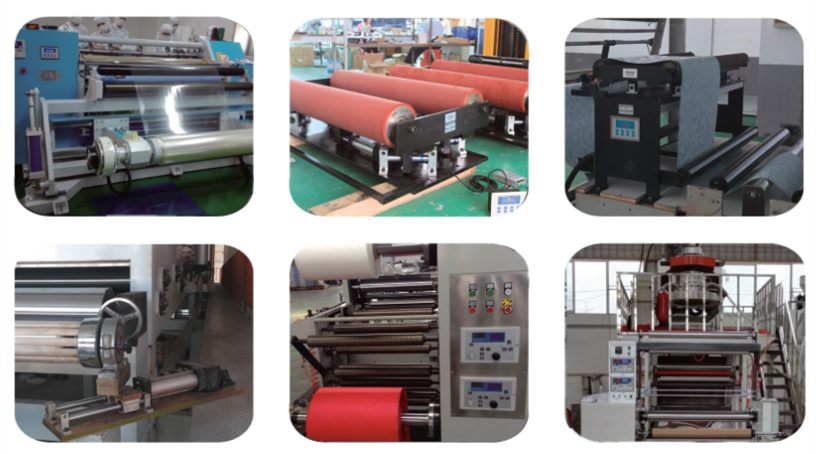 EPC-A10 Servo Edge Position Controller
Servo Edge Postion Controller EPC-A10 adopts the high-speed 32-bit CPU drive DC servo driver and no-overshot integral variable PI adjustable algorithm. It is of high deviation rectification and fast reaction. In addition, it supports three operation modes: the edge-following, line-following and center tracing mode.
Features of system
1. support three operation modes: edge-following, line-following and center-alignment.
2. support photoelectric sensor, ultrasonic transducer and CCD Sensor
3. detect sensor's parameters intelligently, no need to correct the sensor under most circumstances
4. automatic travel measurement, no need to limit the switch mechanically.
5. no overshot integral variable PI algorithm, high accuracy, fast reaction and less error.
6. 0.5msec super-speed of responding
7. analog quantity transducer signal 12bit AD sampling, 700,000 times of sampling per second
8. adopt FIR digital filter and return difference filter, stronger anti-interference capability and more stable signal
9. DC servo motor to push the ball screw
10. power-down memory of all the parameters at any states in the system
11.store 10 groups of parameters from different material, convenient and efficient switchover of material
12. Simplified Chinese/ Traditional Chinese /English for menu operation
13. humanized operation, fast, simple and convenient
14.support Modbus and PLC/Human-computer networking control
Edge Position Controller Data
| | |
| --- | --- |
| 控制方式Control Method | DC Servo Motor Driver |
| 电源Power | DC 24V /5A |
| 控制输入Control Input | DC 0~5A |
| 控制输出Control output | 3P,24V, PWM |
| 响应速度Response speed | 0.5 ms |
| 环境温度Environment temperature | -10~60°C, below RH90% |
| 重量Weight | 1.2 kg |
Wiring Diagram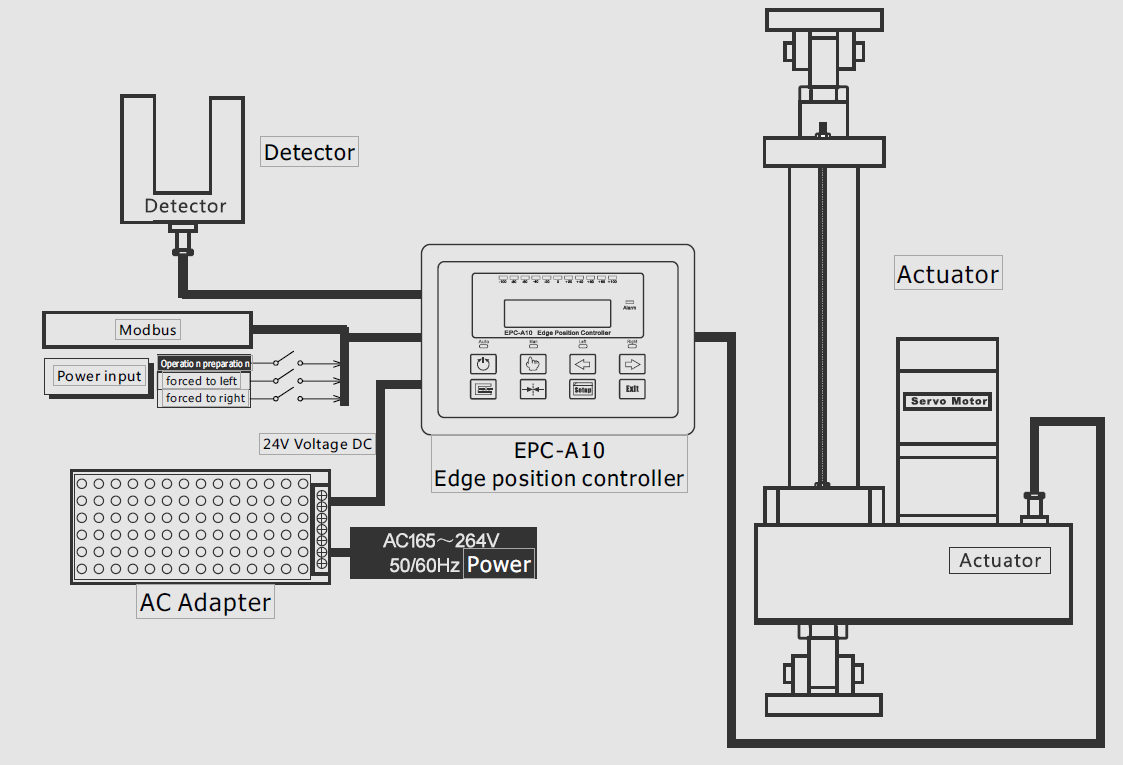 Installation
Servo Motor Driver PD series outline
The Servo Motor Linear Driver uses brushless DC servo motor to drive. Comparing with other motors which has features of high efficiency, high speed, short responding time, large starting torque, accuracy braking and maintenance free. The transmission part equip with high accuracy ball screw which is with high efficiency, less return difference and accuracy position. It is widely applying to edge controlling with high speed and high accuracy.
Features
1. Brushless DC motor,no maintenance;
2. Highly precision ball bearing leading screw makes location accurate;
3. Non-mechanical limit switch;
4. Thrusting force 150Kg to 200Kg.
Technical Data
跟踪方式Tracking method

Edge tracking

电源输入Power input

DC 10~30V

输出信号Signal output

Two-way 0~5V, Two-way NPN on-off signal

检测范围Detecting range

8mm(±4mm)

可调精度Detecting precision

± 0.02mm

检测方式Detecting method

Photoelectric correlation

载波频率/响应频率

Carrier frequency/ respond frequency

100KHz/1KHz

防护等级Protection level

IP54

重量Weight

0.6kg

环境Environment temperature

-10~80°C, below RH90%

外壳材质Housing material

Aluminum Alloy
Servo Motor Linear Driver Parameter
| | | | | |
| --- | --- | --- | --- | --- |
| Model | Travel | Thrust | Pushing loading | Max. driving speed |
| PD-104L80 | 80mm | 1KN | 1000kg | 40mm/s |
| PD-104L150 | 150mm | 1KN | 1000kg | 40mm/s |
| PD-204L150 | 150mm | 2KN | 2000kg | 40mm/s |
| PD-204L200 | 200mm | 2KN | 2000kg | 40mm/s |
| PD-403L150 | 150mm | 4KN | 4000kg | 30mm/s |
| PD-403L200 | 200mm | 4KN | 4000kg | 30mm/s |
| PD-803L200 | 200mm | 8KN | 8000kg | 30mm/s |
---