---
6inchVS12inch Leaf Air adapter
Name:
6inchVS12inch Leaf Air adapter
Name:
Leaf Type Pneumatic Adapter
Model:
6inch to 12inch
Inner dia:
152mm
Outer dia:
150mm
Length:
300mm
---
---
The adapter for the air shaft is fit for the air shaft of size 6 inches.With the help of the friction of the 6" air shaft itself,the adapter can be fixed.It can be fixed in anywhere by the single or double way,even more.
本套夹可配合6英寸气胀轴或φ150mm外径之卷轴使用。可借用3英寸气胀轴本身之抓力对本套夹之内径加以固定或以附属之弧形迫环固之。本套夹可单一只或成对于轴上任意定点加以固定使用。
Installation specification 安装规格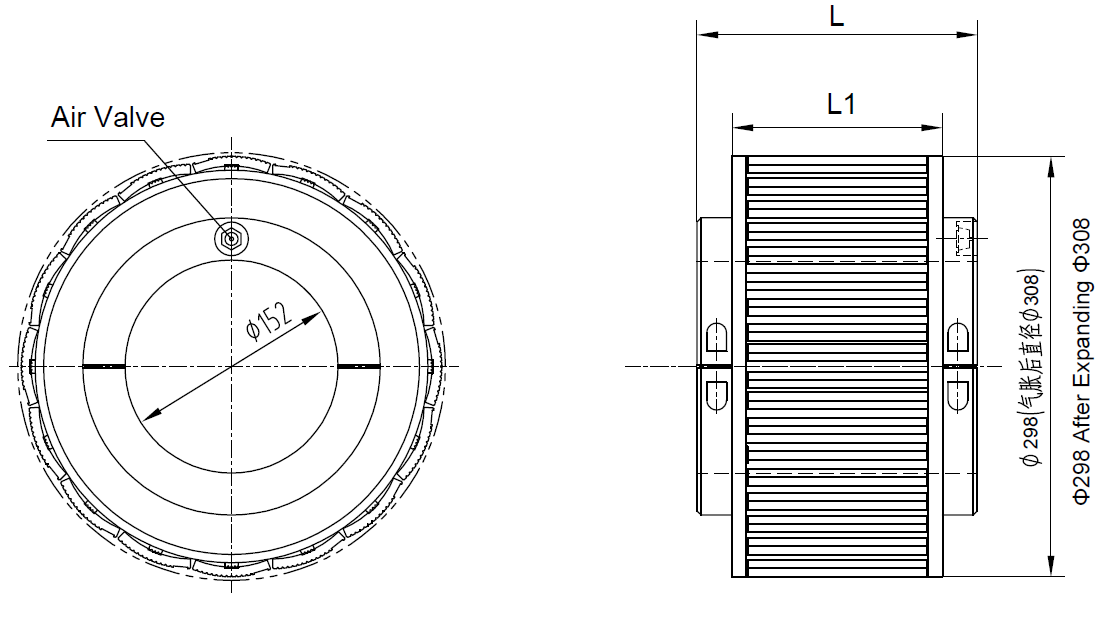 Technique parameter 技术参数
Specification 规格

3" vs 6"

3" vs 8"

3" vs 10"

3" vs 12"

6" vs 12"

The diameter before air inflation(Φmm)

充气前直径

148

200

250

300

298

The diameter after air inflation(Φmm)

充气后直径

156

208

262

310

308

The inside diameter of paper tube (Φmm)

纸管内直径

149-153

201~205

252~256

302~305

302~305

Weight calculation (kg) 重量

9.8kg

special calculating
Features
1. Pneumatic air expanding adapter drum has leaf type and drum type;
2. Usage: set outside the 6 inches air shaft, can achieve the 12 inches efficient;
3. Inner bore Ø 152mm, outside diameter is Ø298mm, the length is according to the customers' request;
4. Adopt the high quality aluminum alloy hard oxidize, the surface color is tawny,use convenient;
5. After gassing it is equal to 12 inches air shaft, outside diameter can reach 308 mm;
6. The surface of expanding bar(made of aluminum) ;
Note: The length of the air cover is determined by the customers' needs.
---