---
Pneumatic Diaphragm Pump-Single way
Name:
Pneumatic Diaphragm Pump-Single way
Working Pressure:
0.2—0.5 MPa
Air Consumption:
4 m3/h
Medium flow:
4—12L/min
Pump Lift:
4 meter
---
---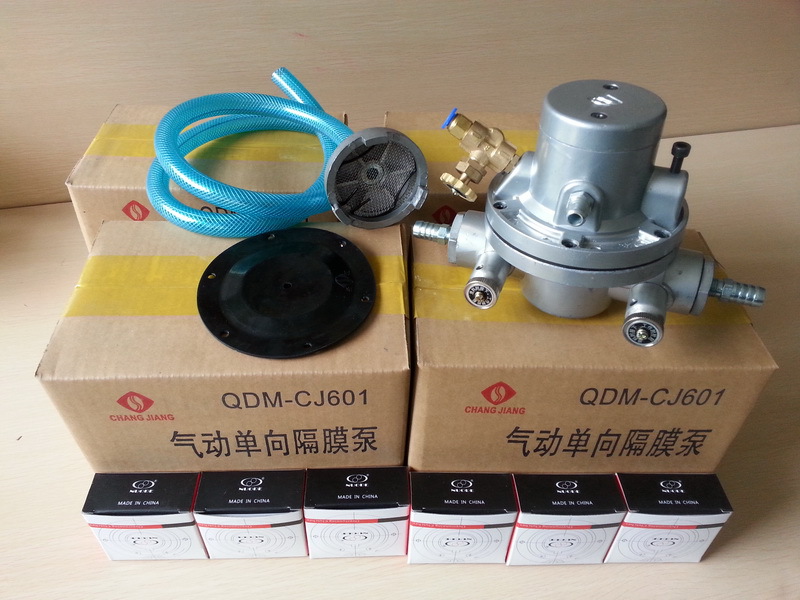 Product Description
Diaphragm pump (also known as a Membrane pump, Air Operated Double Diaphragm Pump (AODD) or Pneumatic Diaphragm Pump) is a positive displacement pump that uses a combination of the reciprocating action of a rubber, thermoplastic or teflon diaphragm and suitable valves either side of the diaphragm (check valve, butterfly valves, flap valves, or any other form of shut-off valves) to pump a fluid.
Principal: When the volume of a chamber of either type of pump is increased (the diaphragm moving up), the pressure decreases, and fluid is drawn into the chamber. When the chamber pressure later increases from decreased volume (the diaphragm moving down), the fluid previously drawn in is forced out. Finally, the diaphragm moving up once again draws fluid into the chamber, completing the cycle. This action is similar to that of the cylinder in an internal combustion engine.
Features
1. Because it is using air as power, the diaphragm pump does not heat and produce sparks; suitable for use in flammable and explosive environment.
2. Use PTFE diaphragm, can be used for chemical properties relatively volatile liquid, corrosive medium.
3. Diaphragm Pump can pump particle liquid;
4. The liquid can be conveyed by diaphragm pump is wide, the viscosity from low to high, from corrosive liquid to viscous liquid.
5. Diaphragm Pump is small, light and easy to move.
Applicable Industries
1. Printing Industry: water-based gravure printing ink, solvent (toluene), ethanol, acetone,), paint, glue etc.
2. Paper Industry: cooking liquid, bleach, paint, glue etc.
3. Petrochemical Industry: all kinds of oil, fuel, chemical raw material, acid, alkali
4. Spray paint, ceramic industry: paint, pigment, gum, tile, brick, porcelain, pottery glaze slurry
Main technical references
Inlet & Outlet

Pipe Diameter

Working

Pressure

Air Consumption

Medium flow

Self-priming height

Pump Lift

10,12,20mm

0.2—0.5

MPa

4 m3/h

4-12L/min

2 m

4 m
---